Dominica Makes an Impact at Expo 2020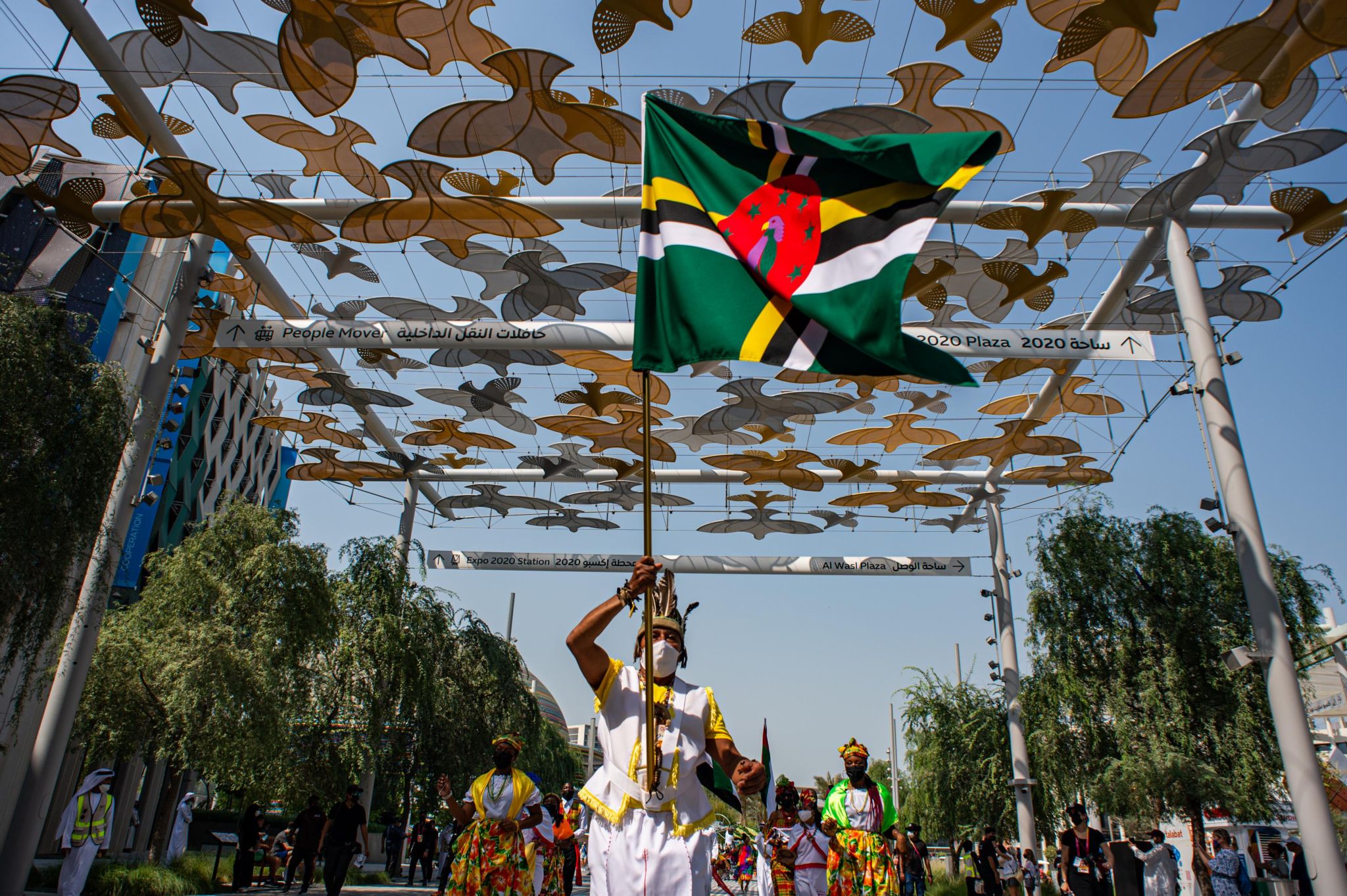 Dominica Makes an Impact at Expo 2020 in Dubai
Dominica was placed on the world stage at Expo 2020 held in Dubai, United Arab Emirates from October 1, 2021 to March 31, 2022, joining 192 countries and many other organizations in displaying the best of our culture, industry and attractions.
At the Expo's peak, Dominica's pavilion attracted 6000-8000 visitors per day in the Mobility District, close to neighboring country pavilions like Jamaica, Barbados, Trinidad and Tobago, Eswatini (formerly the Kingdom of Swaziland) amongst others. Our pavilion featured some of the island's best attributes and patrons found it particularly exciting when they visited, especially learning about the native Kalinago people, lush greenery, the boiling lake and other natural sites that our island has to offer.
Investor Services Officer Shayan Monelle, manned the pavilion during the Expo welcoming visitors daily and providing them with information about how to visit Dominica including the best travel routes and the benefits of living and working in Dominica. He described the experience as "promising".
"On the business side, it was very promising", Monelle said, "The Expo hosted over 199 countries, institutions and universities, so we were able to interface with them and provide the contact information for [local] producers. What we need to do is to follow up on the contacts that we have made to continue to try to make linkages for producers and markets."
Dubai being the home of the Expo presented a unique opportunity as many persons of various nationalities and diverse cultural backgrounds that reside there, have the means to facilitate travel and investments around the world. Thus, Dominica's participation at Expo 2020 placed the island on the "bucket list" of persons who may not have otherwise considered Dominica.
Monelle added, "It also provided a very, very good networking opportunity between nations as well as between sectors. For example, we were able to meet with someone who was interested in recycling of plastics. In that regard, it gave us an opportunity to interface and network with persons from different productive sectors that we are interested in, as well as individuals who wanted to just visit Dominica. A lot of persons were interested in our natural products that we had displayed at the pavilion including our local water, which we are very famous for as the land of 365 rivers."
Monelle noted the interest from the visitors and believes that there are certainly new markets ready for Dominican products and strides in production quality and standards are the key to unlocking the potential of these markets.
"The market is out there, especially in the UAE. It's a large market. I think right now it's up to us to determine what the standard is and how best we can conform to those standards in order to enter those markets. We did meet with a number of folks who are interested in our products, whether it's for the UAE or even regions like India or Sri Lanka, because the Expo brought people from all over the world to participate and to present their countries. And the folks who did visit our pavilion did have a very keen interest in what we had to display," Monelle said.
He ended his time at Expo 2020 with the sense that Dominica's representation was well worth it.
He concluded, "It was successful in that we now have an idea of what is out there in that region and what might be required in order to, to access it right now."